Canada's inflation rate landed precisely where the consensus thought: 3.4%. That's down 1%-point from the 4.4% print last month.
While Bay Street expected it, most laypeople didn't. That's key. Inflation is now in the 3's for the first time in 22 months. That's a significant relief from 8.1% last June. If consumers believe CPI is dropping this fast, they're less prone to aggravate inflation by front-running purchases and demanding higher pay.
Here's the highlight reel from today's report:
CPI increased a scant 0.1% m/m, so it wasn't all about base effects this time.
Core inflation finally dipped below 4%, with the BoC's two main measures easing to 3.9% annualized on average (+0.2% m/m).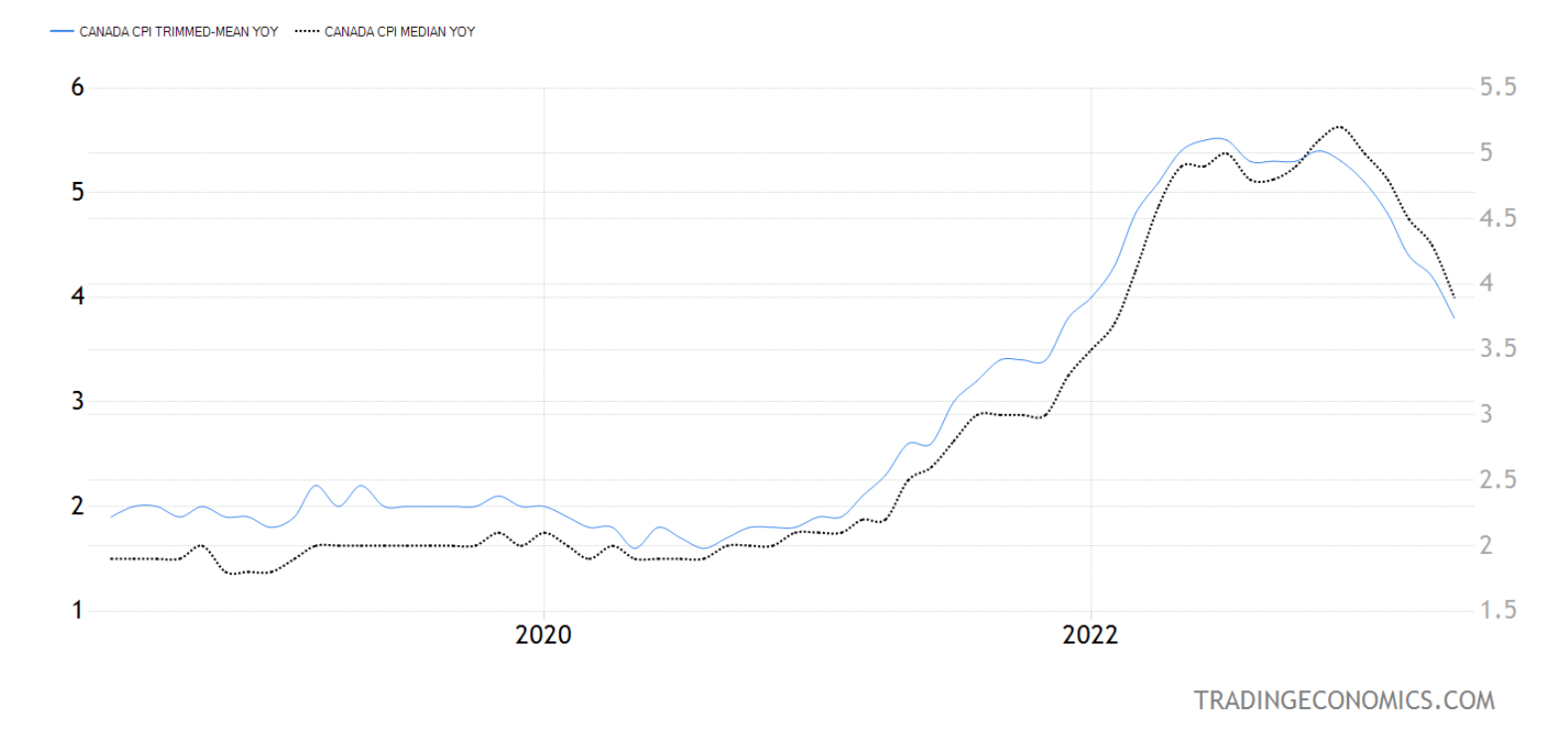 The BoC's favoured 3-month core measure slowed 20 bps to 3.6%. That's meaningful progress, but 3.6% is still not 2.0%.
One sobering stat was 3-month "core services excluding shelter"—a measure the BoC has grown fond of this year. It went the wrong way, accelerating 20 bps to 4.9%.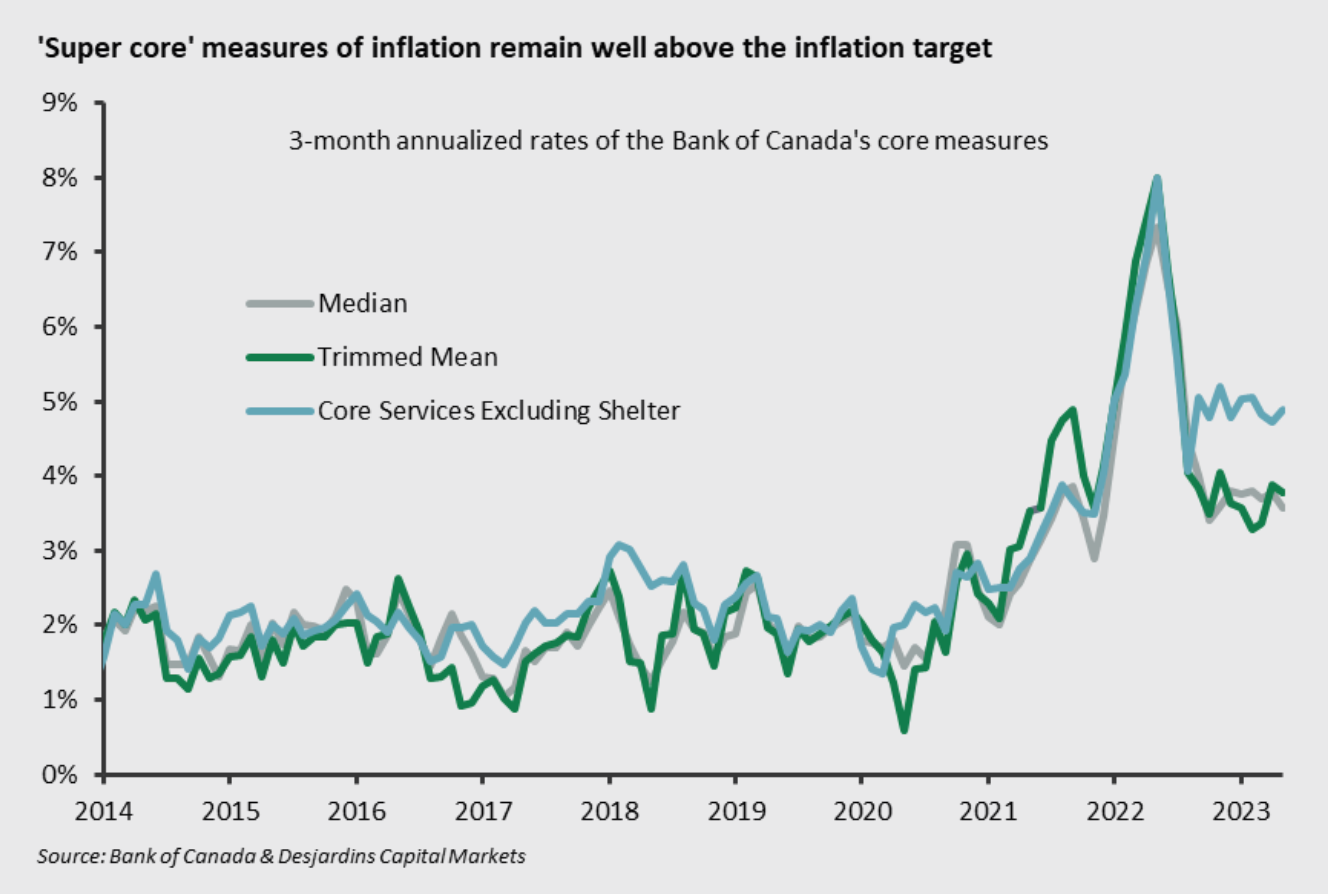 We have one more easy comp (June 2022's 0.7% m/m print), and then comparables get tougher for a while—so tough they could slow CPI's progress until the January report in February 2024.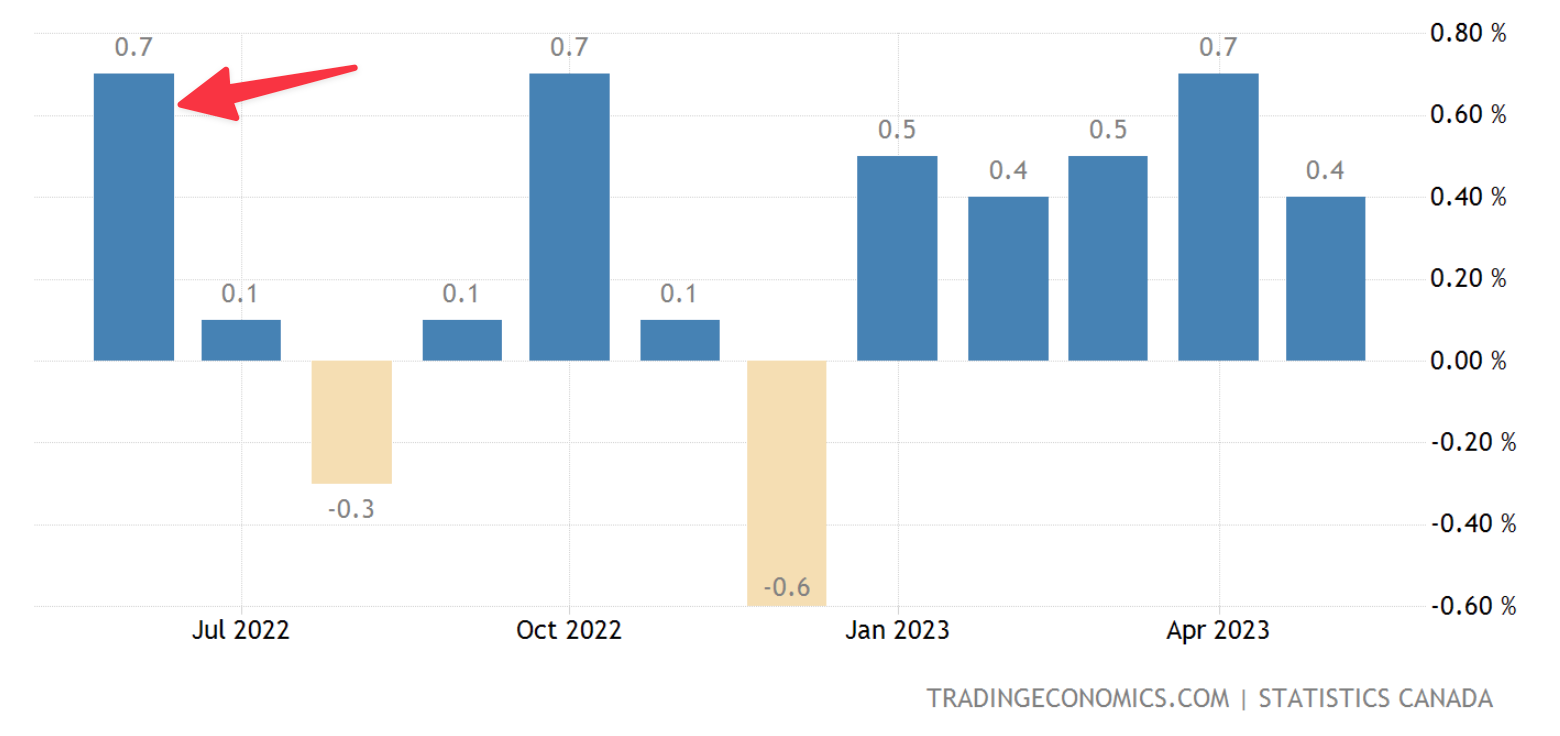 The mortgage interest cost index—3.8% of the CPI basket—jumped almost 30% (+29.9%). It was the "largest contributor to the year-over-year CPI increase," said StatsCan. The agency was quick to point out that "Excluding mortgage interest cost, the CPI rose 2.5% in May, following a 3.7% increase in April." Now, guess who influences mortgage costs the most in this country. That's right, the people fueling this index are the same people who need CPI lower.
Various economists today are now reaffirming their view for sub-3% headline inflation before year-end, potentially even next month.
Odds are, Tiff & Co. will whack borrowers once more. #OIS# probability is 57% for another hike on July 12, but let's see how employment data shakes out next week. Implied chances of an additional hike before year-end fell to 1 in 3 after today's CPI.
Desjardins Economics rate analyst Royce Mendes, one of the least wishy-washy guys in the talking heads business, summed up the BoC's stance as:
"With measures of recent price growth continuing to run above 3 ½%, it looks almost like a done deal that the Bank of Canada will raise rates another 25bps in July."
Canada's 5-year yield was down one bps as of 10:30 a.m. ET today, despite the U.S. 5-year being up five bps. If the July 7 jobs report shows worsening unemployment and we get no more hawkish developments out of the U.S. through next week, there's still a chance 2023 5-year yields could top out below last October's high.