📰
ICYMI:
For anyone interested in the mortgage broker business, MLN's interview with industry leader Luc Bernard is a must-watch.
View now
Markets predicted the Bank of Canada would leave its key rate at 4.50%, and it did.
"We've come a long way" since last summer, BoC governor Macklem said today. "We are encouraged inflation is declining..."
What matters most for mortgage rates, however, is not where we've come from, but where we're going. The Bank shared these clues in today's official statement and press conference:
The BoC warned that it "remains prepared to raise the policy rate further if needed to return inflation to the 2% target."
But Macklem also advised Canadians, "Don't plan on inflation staying high."
"The Bank expects CPI inflation to fall quickly to around 3% in the middle of this year and then decline more gradually to the 2% target by the end of 2024."
Rate cuts this year "do not look like the most likely scenario to us," Macklem said. The OIS market responded by trimming its bets for cuts through December: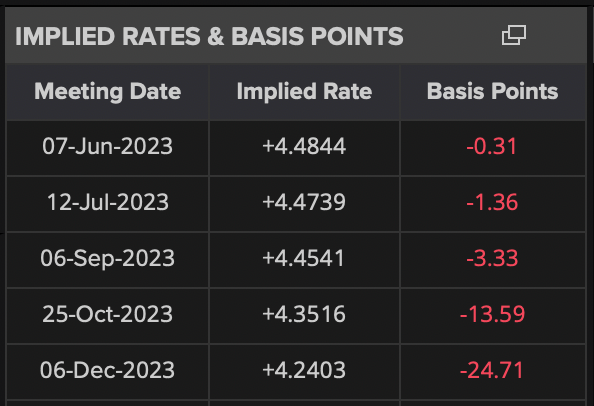 "We need growth to be weak," Macklem said, but "We're not forecasting large increases in unemployment."
The BoC suggests that excess government spending will boost growth. If this pace of expenditures continues, Macklem says it will make it "harder" to bring inflation back to 2%.
Our government's spending addiction is "further pushing back the day when the Bank can begin cutting rates," BMO Economics wrote today.
Slowing lending in the U.S.—due to the recent banking scare—will feed through to Canadian growth, the BoC said.
Going forward, the "Governing Council will be particularly focused on [inflation expectations, service price inflation, wage growth and corporate pricing behaviour]...and the evolution of core inflation."
"Persistent services price inflation" is the "main upside risk" that could keep interest rates higher for longer, the BoC said.
"U.S. growth is expected to slow considerably in the coming months, with particular weakness in sectors that are important for Canadian exports," the BoC projects. (As regular readers know, the U.S. inflation outlook significantly impacts Canadian mortgage rates, so MLN reports on it regularly.)
Inflation is falling "mostly for mechanical (arithmetic) reasons," former BoC governor Stephen Poloz told BNN today. For that reason, he expects headline CPI—the metric Canadians care about the most—to have a 2-handle later this year.
Before the Bank of Canada "declares victory," inflation expectations must come down, and they absolutely will in time, Poloz says.
By the way, if Stephen Poloz is not Canada's most informed and sensible monetary economist, we don't know who is. MLN hopes to bring you an interview with him in the not-too-distant future.
📰
Not a member yet? Get these updates in your inbox 4-5 days a week as an MLN Premium member.
Join now!
The BoC on mortgages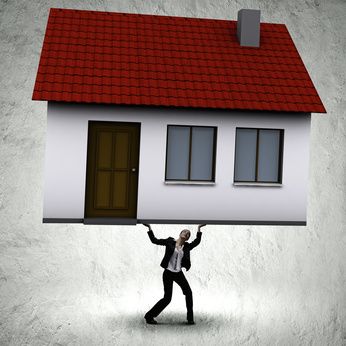 "At current interest rates, the share of income spent on interest payments will continue to rise as homeowners renew their mortgages."—BoC
"...Higher debt-servicing costs leave many households with less money for other spending," the Bank explained today. "This slows overall demand growth—which, in turn, relieves price pressures and helps bring down inflation."