If you're a mortgage advisor seasoned enough to recall the "good old days," you'll surely remember the arduous process of finding suitable lenders for clients.
It was an era defined by quaintly archaic tasks, like:
manually scanning endless product guides
pouring through neverending rate sheets
engaging in delightful games of phone tag with your lender rep.
How did we ever survive this?
Fast forward to 2023, and there's suddenly a tech race to help brokers find lenders and products more quickly.
Today, we profile a product that's making that race more interesting: Scarlett Genius. It's a brand-new system designed to help mortgage brokers identify the best rates and products for their customers, all in a few minutes.
Scarlett Genius launches September 5 as a 30-day pilot.
Here's what it does...
Genius integrates fully with the customer's mortgage application.

i.e., Upon receipt of a customer application—or as you complete a basic application in Scarlett—it tells you which lender's products are a fit.
Scarlett says that, unlike Lender Spotlight, no tedious double-entry of data is required. Although, Spotlight does let users auto-populate some fields with the click of a button.
Like a sommelier of mortgages, Genius starts making recommendations as soon as you give it parameters (the minimum parameters are the deal's income, home value and mortgage amount). It fine-tunes its recommendations as you pull the credit score and enter the amortization, closing date, occupancy status, term type, province, and deal type.
Scarlett claims it makes more refined recommendations than competitors because the recommendations are based on more of the customer's application data.
It shows brokers the rates and finders fees, too.

Genius uses artificial intelligence to learn the broker's preferred lenders and position those lenders more prominently.
Like Spotlight, there's also a keyword-searchable database of lender policies.
In the words of Scarlett President and CEO, Joe Fakhri, "Scarlett Genius is a pure deal placement system. Everything else is merely a glorified rate database."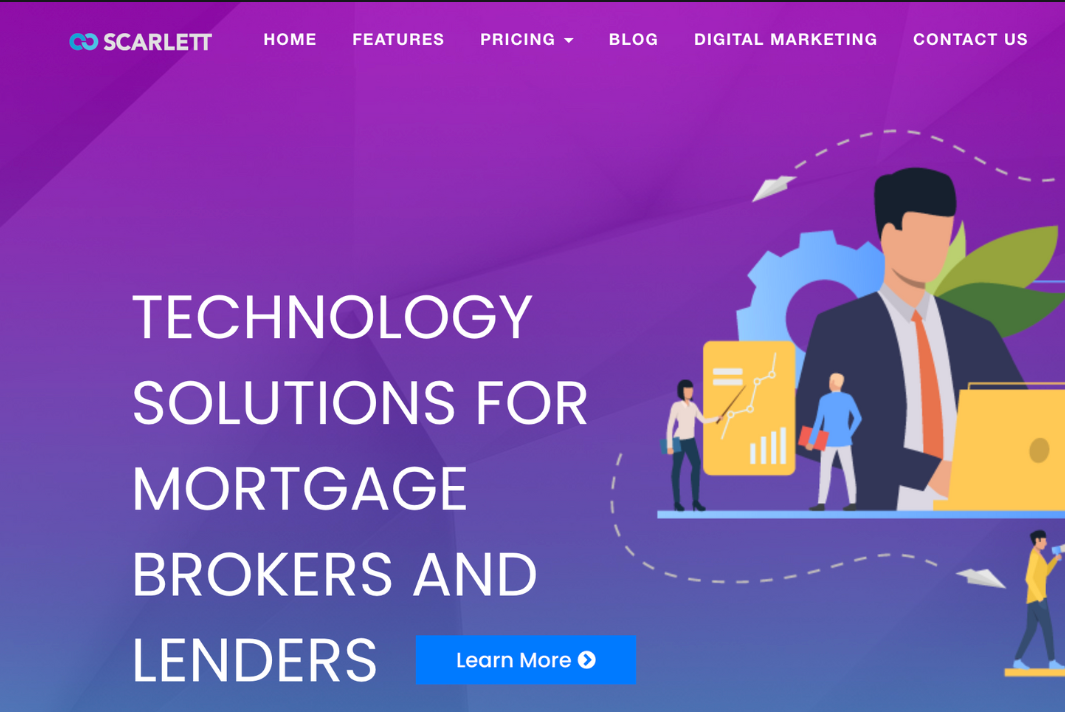 In Q2 of next year, Scarlett plans to launch phase II of the system. "It will recommend changes to the deal to make sure it's approved by the lender," Fakhri says. "It will also calculate the likelihood of the lender approving the deal."
Scarlett Genius screenshots
Here's how you filter products...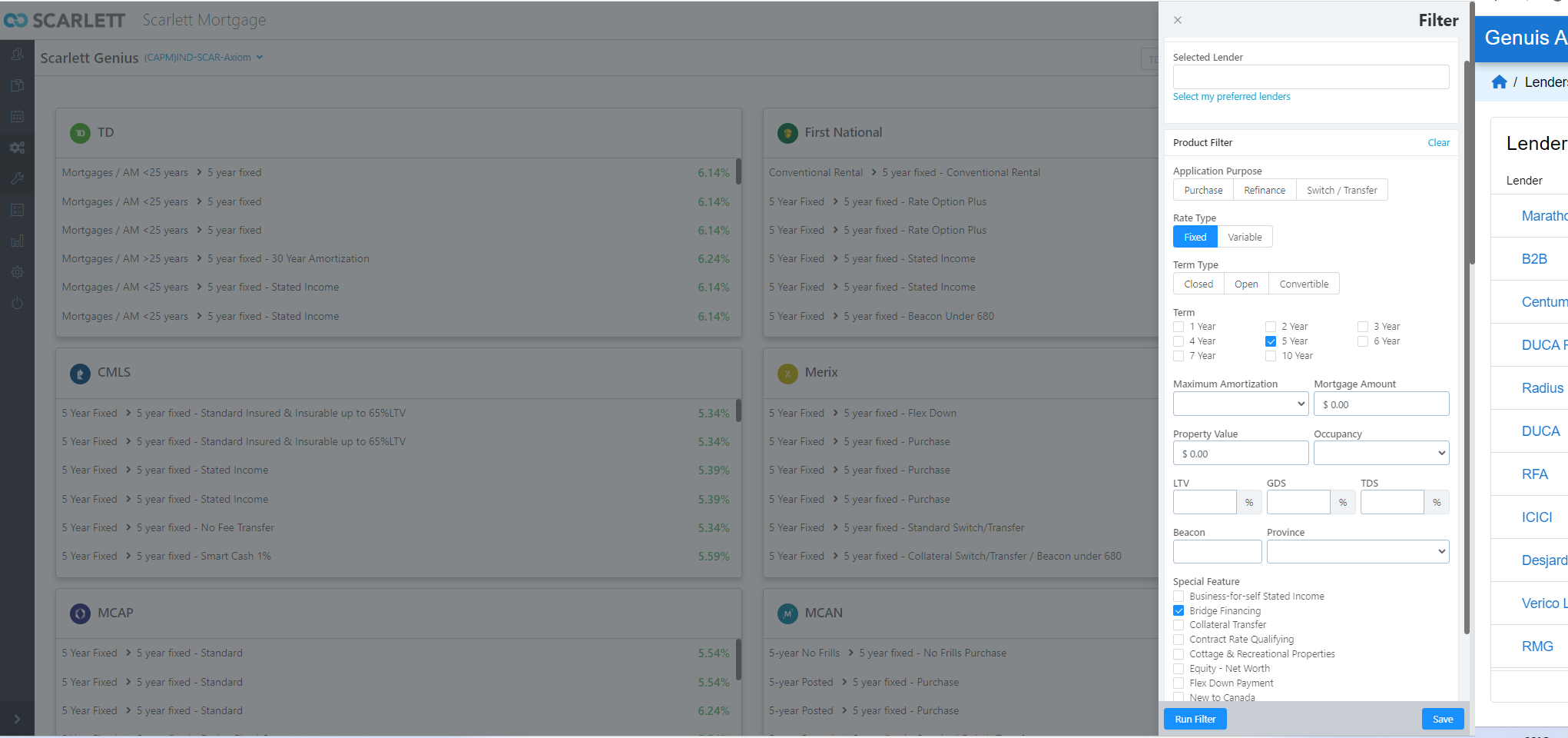 How you search policies...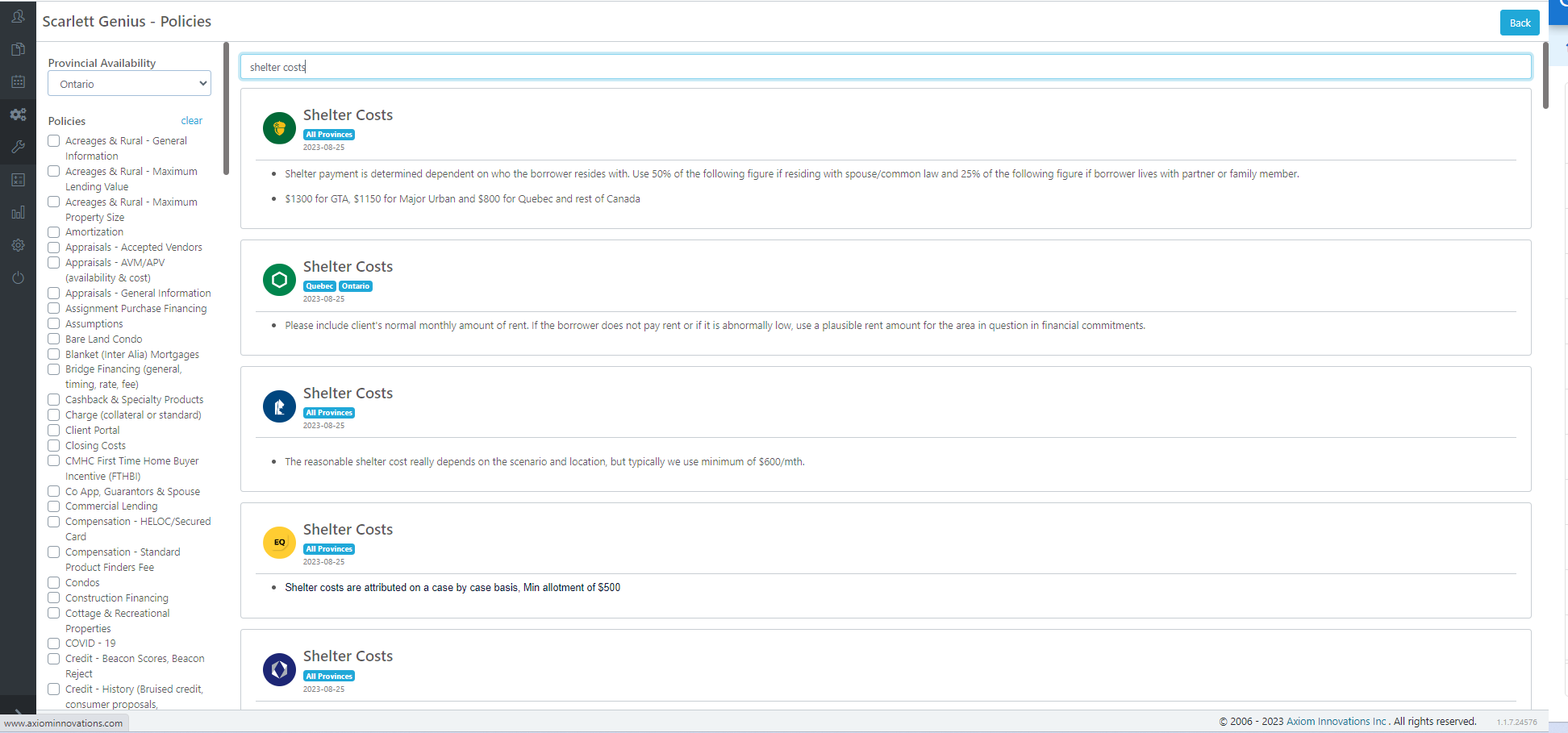 Where you enter the deal type...

The results screen...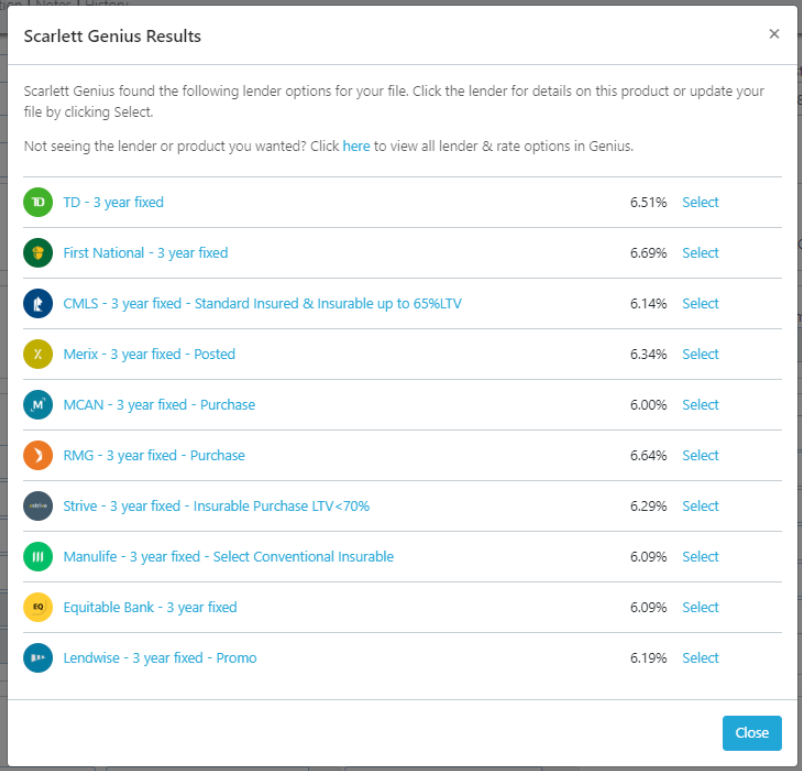 The product suggestion screen...

About Scarlett
Scarlett's primary business is selling a deal management platform and the industry's #1 payroll solutions to brokers.
It's a multi-tasking beast, offering document collection, lead nurturing and CRM (email automation) and payroll, among other things. Scarlett is particularly known for its filters. They let brokers generate new business opportunities by scanning their database, using simple or very complex queries.
It can identify everything from clients who have non-subject properties renewing, to high-income borrowers with low credit scores, to borrowers with fixed-payment variables, to clients in specific industries (if you want to run a healthcare industry promotion, for example).
It can also send pre-populated applications so clients don't have to enter all their data again (we love this feature). It also analyzes the file to request documents automatically based on the deal type, and safely tucks docs away in a SOC-2-compliant secure storage facility.
Unlike DLC Group's Velocity and M3 Group's BOSS platforms, Scarlett (like Lendesk) is not owned by a broker network, so brokers have no concern about being able to switch firms and keep all their data. It allows for no-strings-attached relationships that some brokers refuse to live without.
And unlike the competition, Scarlett claims to provide access to more lenders, thanks to its deal with Filogix and Newton. It's the only platform partnered with both networks.
One downside: It doesn't have access to National Bank, accessible only through M3's BOSS platform (you can import the deal data via CSV file, however). But Scarlett does allow access to HSBC if the broker is authorized.
"The real upside, for an organization that was previously pure Expert / Filogix, is that the transition is very intuitive," says user and veteran broker, Ron Butler. "So, less training and less downtime."
On that note, Scarlett offers group training three days a week and also does private training.
Reader note: As with all MLN product reviews—unless explicitly noted—we have no affiliation with this company. Product announcement stories are merely for our readers' knowledge. MLN tries to stay as impartial as an NFL referee. Albeit, that may be a bad analogy.